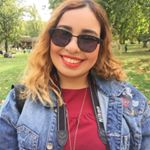 Hi!
My name is Michelle Lugo, and I'm a Berklee College of Music alumni. My major was composition, arranging and production, and I have a minor in music technology. I was always interested in music since I was four years when I begged my mother to buy me a piano. Since then, I've learned to play classical piano at a conservatory and picked up other instruments like guitar, bass and voice. Through my experience in music, I wanted to start composing and arranging, and I started that at 15. When got into Berklee, I knew that I wanted to expand my creativity to make music and be able to learn different stuff with it like recording, mixing and arranging. I have made arrangements for big shows at Berklee, and I want to have different projects involving creating for other people and for myself. 
Why do I love Music?
I love music because it's more than just a passion; it's something that defines me.  It brings out my creative side, and it's something I don't get tired of.  Music makes the world a better place, and I intend to make the world a better place through music.
If you have any questions or would like to get in touch, you can reach me via Email, Facebook, or Instagram.